---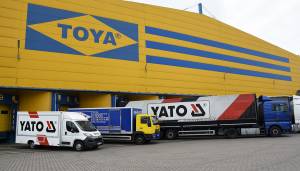 Yato is an entity listed on the Warsaw Stock Exchange, which deals with the creation of tools (Toya capital group). Recently, a strong sell-off has been visible in the company's stock, despite the fact that the results presented by the group are characterized by a clear upward trend. Worse sentiment may result, among others, from from the potential decline in margins, points out Konrad Książak on Comparic24.
Strong valuation decline
– The first company that I wanted to deal with is a company from the industry, one can say strongly associated with the construction industry, because we are talking about the Yato company. The Yato company is responsible for the tools, their best known brand is Toya, but there are also other smaller brands, such as Vorel. – points out Konrad Książak. When looking at the stock exchange valuation of the company, it should be noted that in the last few months a clear downward trend has been visible. At the end of September 2021, investors were ready to pay over PLN 9 for a single Yato stock, while at the beginning of March it was only PLN 6.00, which resulted, among others, from with the worsening of sentiments by the war in Ukraine.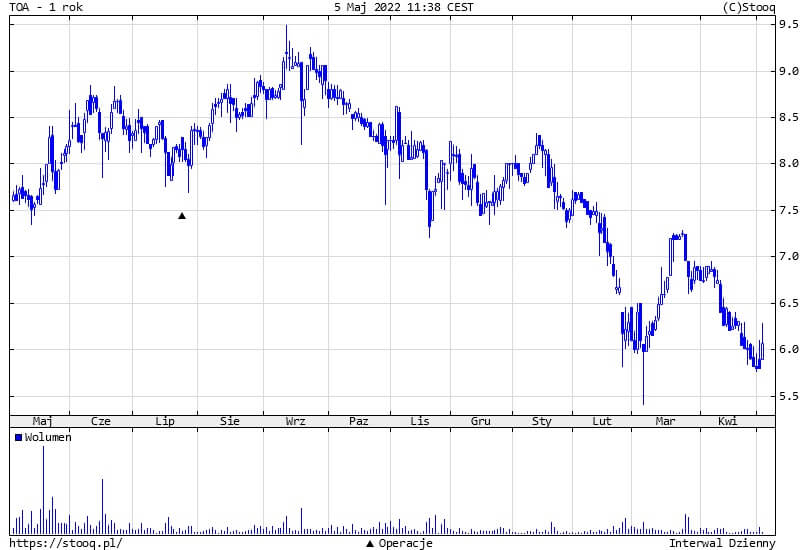 Toya quotes in 2021-2022. Source: Stooq.pl After reaching the wartime lows, the company's stock rebounded above PLN 7.20 in the second half of March, but in the following weeks strong declines were again visible, which removed the valuation to only PLN 5.80 at the end of the session on May 4. It is worth noting that the levels of PLN 9 were achieved a few months ago were far from their historic peaks. In June 2018, the company's shares were valued at almost PLN 18, so almost twice as much.
Increases in financial results
When looking at the financial results presented by the company, it should be noted that in recent years there has been a clear upward trend in sales revenues. In 2016, the company's revenues amounted to PLN 310.16 million, while for the year 2021 this value was a record PLN 686.74 million, so the increase was over 2 times in 5 years. Moreover, net profits are also increasing. In 2016, the company earned PLN 32.86 million, and last year (i.e. 2021) it was already PLN 77.40 million, so also here the increase was over twice. Therefore, it can be indicated that the net profit goes along with the increase in sales.


– Looking at these last quarters, the revenues are also at a good level, because until recently quarterly revenues were PLN 100/120 million more or less, the company operated within this range. At the moment, it is around PLN 160/170 million, even exceeding the PLN 170 million. – emphasizes Konrad Książak.
Profitability drop
– It is no wonder that this profitability fell slightly. The important thing is that there is no such very strong decline. This is definitely a big plus when it comes to the company. But is this the end of the decline in profitability? Here is I think the first point where investors may hesitate slightly and therefore this share price may go down. – explains Konrad Książak. As we hear on Comparic24, the drop in profitability already in the fourth quarter of 2021, which resulted from the increasingly stronger inflation shot, may raise concerns among investors, because both the first and second quarter of 2022 may be even worse in this respect. The war in Ukraine, rising commodity prices, increasing inflationary pressure, or problems in the real estate market are all factors that may hit the company's potential margin.
Also check:
See other phrases most searched for today: digital polsat share price | lion pln | bitcoin era reviews | home development course | celon pharma stocks recommendations | today's Icelandic krone rate | gbp online | Follow us on Google News. Search what is important and stay up to date with the market! Watch us >>