The WAVES cryptocurrency was one of the big highlights in the last 30 days. While the price of other cryptocurrencies fluctuated or even dropped in value, WAVES has seen a strong rise of 120% in this period. According to CoinMarketCap, the cryptocurrency went from BRL 54 to the current BRL 114. As a result, WAVES records the highest appreciation of the Top 100 in the last 30 days. But does that mean its price can still go up further? Perhaps not, according to some analysts, as a crossover of averages may be about to occur. The so-called "cross of death" is a risk that can lead to corrections in the price of WAVES. Understand the reasons behind this appreciation, if it is still sustainable and, above all, how to buy WAVES safely.

Binance boosts WAVES price
There were at least two reasons that contributed to the rise in the price of WAVES. Firstly, the cryptocurrency is now accepted by Binance as collateral on its lending platform. Soon, WAVES holders will be able to make loans on the exchange and leave their cryptocurrencies as collateral. This announcement led to a 200% increase in WAVES trading volumes on Binance, which helped lift the cryptocurrency's value. The second announcement was an update to the network itself, titled Waves 2.0, which increased interoperability with other networks. This integration is further enhanced with Waves' support of the Ethereum Virtual Machine (EVM), allowing users to access digital assets across multiple networks. Finally, the network also revealed plans to create its own Metaverse with games integrated with each other, thus creating a complete ecosystem. Since the Metaverse theme is still in vogue, the novelty has made prices continue to rise.
Is it worth investing now?
There is no doubt that Waves is in full swing and promising big news in fundamentalist terms. In this sense, it is possible to say that this increase has some basis. But now that it has already occurred, is it worth investing in cryptocurrency? According to analyst Rakesh Upadhyay, WAVES's main mission is to overcome the $21 zone this week. That has already happened and it is currently priced at $22.74. Therefore, the next resistance is in the $24 and $27 regions. That is, even with the strong rally, WAVES still has the potential to deliver up to 18.5% return to whoever buys it now. But there is a risk factor in this path of new valuations: the cross of death. The death cross is a phenomenon that occurs after the crossing of two moving averages. For trader Yashu Gola, this crossover is close to occurring on WAVES. Gola points out that the 50-week exponential moving average (EMA 50 – red wave) was above the 20-week exponential moving average (EMA 20 – green wave).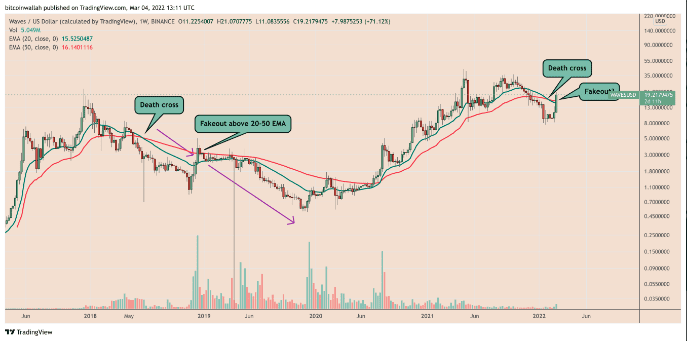 This crossover took place in the week ending February 21st and is the first death cross seen on WAVES since June 2018. The price has continued to rise since then, but this indicator often predicts bearish moves in the medium term. WAVES can be purchased on major global exchanges such as Binance and OKx (formerly OKEx). In Brazil, NovaDAX trades WAVES in Bitcoin (BTC), Ether (ETH), Tether Dollar (USDT) and Real (BRL) pairs. Read also: Binance distributes BRL 500,000 in Shiba Inu (SHIB) to new users Read also: Ether and altcoins could suffer strong correction if they lose this support, says trader in the $25 million action metaverse