The Financial Conduct Authority (FCA), the United Kingdom's regulatory body, announced this Thursday (3) that it had opened 300 cases related to unregistered businesses. In the statement, the FCA warns that many of them could be scams involving cryptocurrencies. Going further, the supervisory body also points to having received 16,400 queries about possible scams. In addition to cryptocurrencies, criminals also scams involving the false promise of returning financial losses. Through a page called ScamSmart, the FCA tries to educate British citizens so they don't fall for scams. Although the database contains several companies, the agency warns that if a company is not listed there, it is not synonymous with reliable.
New technologies, old scams
Being an unobjectionable currency, Bitcoin has attracted the attention of many people throughout its thirteen-year history. In addition, others are also looking to invest in this and other cryptocurrencies due to their rising price histories. However, the lack of technical preparation of some potential investors also caught the attention of criminals. Offering guaranteed returns or unmissable opportunities, their goals are only to deceive others and steal their money. In the note posted this Thursday (3), the Financial Conduct Authority (FCA) points to having opened 300 cases related to companies that are not allowed to operate in the United Kingdom. Noting that many of them can be scams. Through a page called ScamSmart, FCA allows users to conduct research on companies, showing their legal status. Going further, the agency also states that if the investor trades with an unregulated company, he will not have any legal support from the government. When searching for the term "Bitcoin", for example, the site returns unauthorized companies that have this term in their name. As shown in the image below, such companies have several approaches to hooking customers, such as mining and trading cryptocurrencies.
Lists of suspicious companies listed by the FCA. In addition to these five shown above, the FCA claims it has already registered 300 companies to be avoided by potential investors. As well as claims to have received about 16,200 prevention consultations. On another page, from the International Organization Of Securities Commissions (IOSCO), it is possible to find such data in list format. A little more extensive, this list has 443 suspicious deals and also presents data from other bodies, such as the Central Bank of Ireland and the CVM of Spain.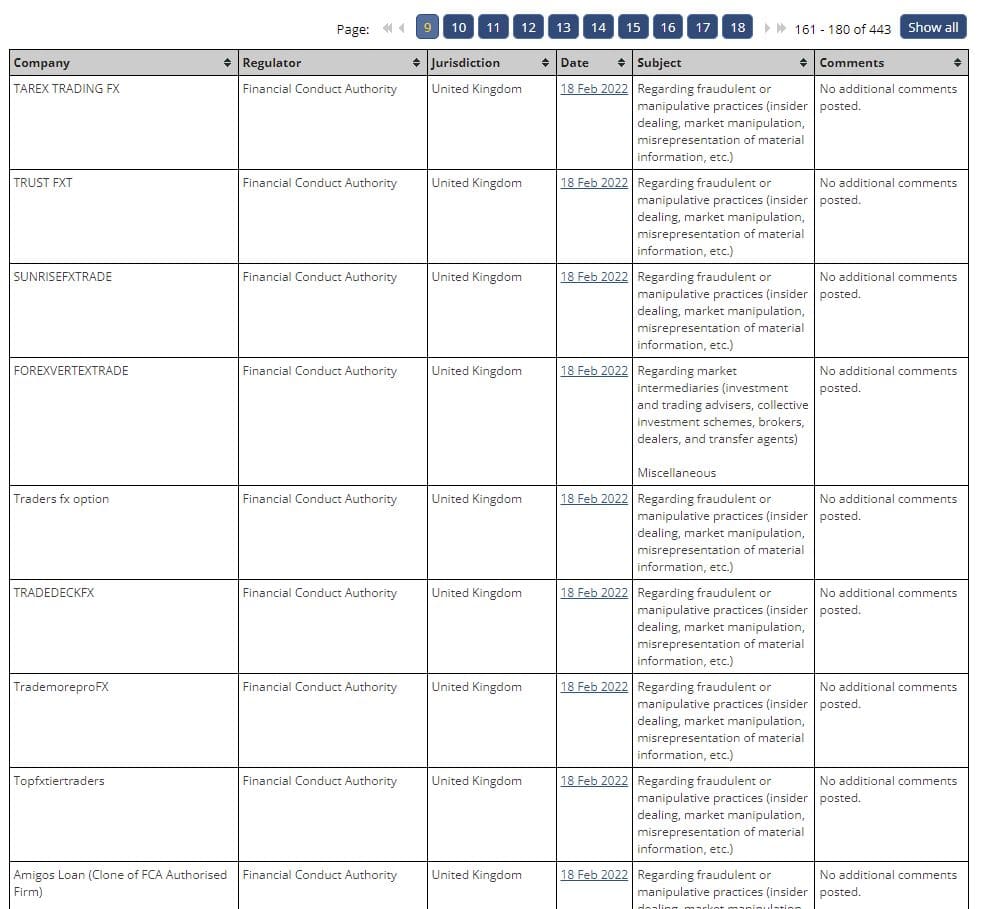 List of suspicious companies provided by regulatory bodies in different countries. Source: IOSCO However, the FCA warns that although a company is not listed there, that does not mean it is legally operating. After all, scammers jump from one scam to another once the old one is discovered. Finally, the statement also notes that criminals are using the name of real and legitimate companies, called "clone companies", making life even more difficult for those who want to invest even though they have no knowledge of this market. As such scams are common all over the world, including Brazil, the recommendation is that the study comes before the investment, doing it only when you are sure about what you are doing.