Cryptocurrency market has been acting in recent months with no defined direction, in a box formation. A lot of caution for this moment is what analysts ask for. Check the studies.
FeerTrader
Bitcoin that has been in a long downtrend has been demonstrating a very interesting buyer context. It is possible to see, after the breakout of the bearish flag, the formation of a double bottom that is currently heading towards the breakout of the MM200. The same follows between the aforementioned average and the averages of 9 and 20 purchased. A possible scenario would be consolidation in this region until there is a breakout. In case of confirmation of this breakout, here are some possible Fibonacci targets. (More on Bitcoin).

Null0Day
The weekly closed with an almost total rejection of trying to trade above the 46k poc. So as the only alternative after institutional lack of interest in aggressively raising the price, we don't have many more options possible than closing the CME gap at 24k, where we will finally reach the mass settlement expected by the big players to go up again. Confirming the weekly bearish flag and elliot flat irregular pattern. Technically, weekly RSI has not yet oversold. Stoch Exited the bottom mark, so it needs bullish divergences to initiate long reversals. Excessively demanded monthly price and still suffering rejections, which means that the number of lots is high but the volume of the largest lots is interested in selling. Still keep in mind the aftermath of the War, and the CME GAP at 24700. (See full analysis).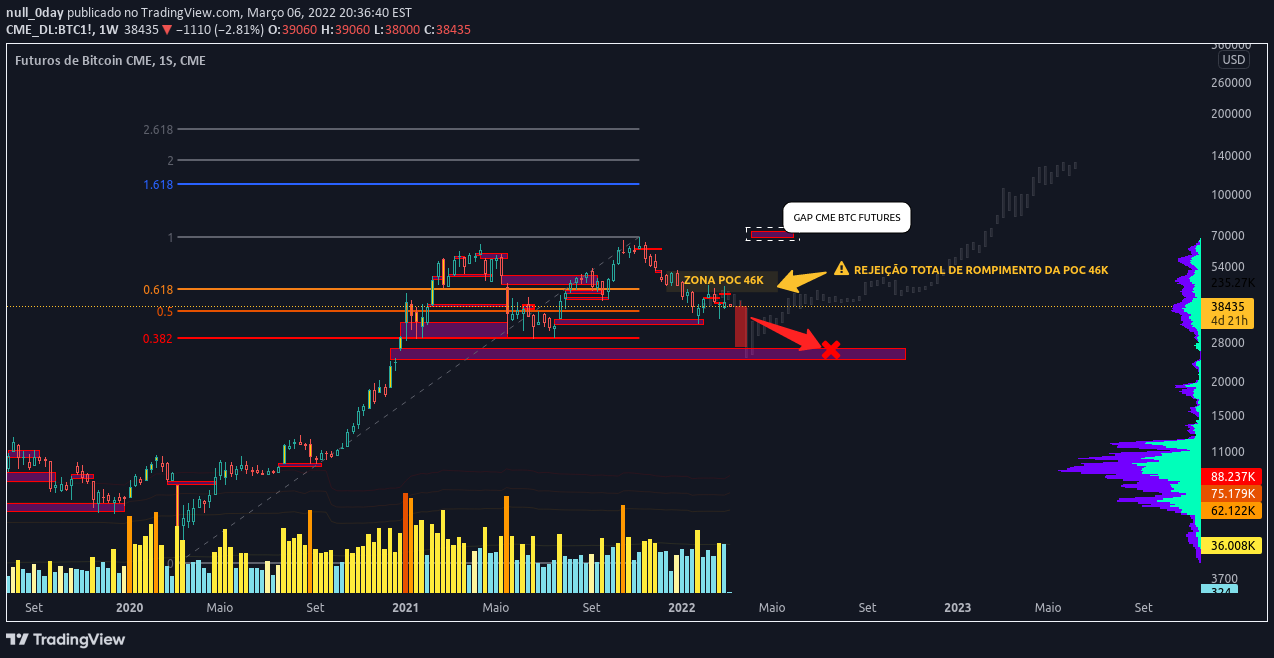 Allan Jhones
ETH price yesterday made the expected move, starting to correct after reaching 2,600/2,650. Now, on the H4 chart, we see a good recovery in the early hours and the price reaching the LTB (downtrend line) coming from the top of the 02/03. The MACD indicator is positive for a stronger rally, today's expectation if the price returns above 2,600. This high could extend to 2,800. If buying force fails to make the break with LTB by the afternoon, a retest of support at 2,450 is expected. (See more from Ethereum).

Gustavo Correa
After several weeks of being pressured by the bears, Gala found the LTA (bullish trend line). In this area we can clearly see that today the buyers started to position themselves, generating a positive daily candle. But the timing calls for a lot of caution: Losing this support could be very very bad, pushing prices to very low levels. We have as supports the levels of 0.19$ and 0.15$ described in the chart by the blue lines. On the other hand, we see on the chart the main resistance zone, signaled in the yellow area. This zone we call the gaza range and comprises the 50 and 618 fibonacci zone. Waiting for a retracement to take a position is perhaps more prudent. (Ideas about the Gala).


Disclaimer: The analyzes presented here are studies only. They are not investment, purchase or sale recommendations, nor do they reflect the opinion of the media vehicle in which they are being published. These are studies aimed at people with knowledge and experience in the financial market. Our Authors: FeerTrader, Null0Day, Allan Jhones and Gustavo Correa. Also read: Projects distribute NFTs for free; find out how to win Also read: UK determines closure of all cryptocurrency ATMs in the country Also read: FTX partners with Tomorrowland to bring cryptocurrencies, NFTs and Web3 to music festivals