Trading futures can be an alternative and even more potent capital protection solution for the crypto investor. When we talk about cryptocurrency trading, we talk about making profits from market fluctuations, whether positive or negative. The professional trader is one who achieves financial gains using the highs and lows of a certain asset, such as Bitcoin or another cryptocurrency. And, of course, anyone can be a professional trader, as long as they study and invest time and capital for it. However, gains would be very limited if it were possible to rely only on the percentage change in the spot market. Thus, traders use futures contracts to trade, speculating on the future price of a currency. In the futures market, leverage is also allowed, allowing the trader to increase his exposure to the market without increasing the margin (the account balance). The experience of investing in cryptocurrencies begins with registration on the platform. Without requiring KYC for users who make the initial contribution directly with cryptocurrencies, the entry to Bitget is simple and fast, taking no more than 5 minutes to make your first investment, and with high liquidity, security and variety of cryptocurrencies to trade. Today, let's talk about Bitget's futures platform!

Getting to know the Bitget futures platform
How could anyone be a professional futures trader without a good charting system? In an integration with TradingView, one of the most respected graphical platforms, the user can do all his analysis with a wide range of tools and a simple and intuitive system of switching between trading pairs.


A trader needs to be quick in executing an entry so as not to miss the trading opportunity. At Bitget, you have an order system that allows you to change the type of margin (isolated or cross) and even the type of order (limit, market or trigger). In addition, with a simple slide, you can define the percentage of your balance that you want to invest in that operation. If we talk about futures, we talk about leverage. And if we talk about leverage, we talk about Bitget! As mentioned, leverage increases the potential earnings of a trade, and you can add up to 125x leverage via Bitget. That is, if you have BRL 50.00 in your account, you can trade a volume of up to BRL 6250.00. Therefore, if a trade had a potential of 10%, generating a gain of BRL 5.00, the same trade has the potential to generate BRL 625.00 in profit. When you define the capital you want to put in each trade and the leverage, Bitget provides the Margin Rate tool. With it, you know the risk of your operation and how much of your margin is being used.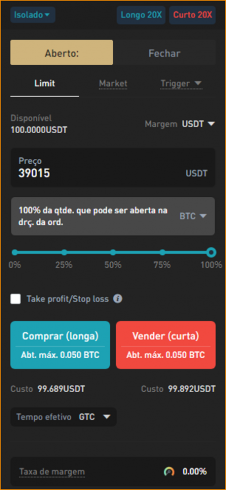 At the bottom of the trading screen, you will have easy and simple access to initiated positions, order history and position details. With the analytics feature, also available for free, it is possible to view on-chain data while performing leveraged futures trades, allowing a more accurate analysis and increasing the possibilities of gains for investors.



Finally, trading cryptocurrency futures through the Bitget platform is simple, intuitive, and super cheap to get started. The minimum balance to make a futures trade is $10 and you can already use the tool. Click here to access the Bitget futures platform. Disclaimer: This article is for informational purposes only and does not constitute investment advice or an offer to invest. CriptoFácil is not responsible for any content, products or services mentioned in this article. Read also: New POSI token airdrop happens this Friday (25) Read also: Symbiosis Finance announces the launch of β-Mainnet; Learn more Read also: Binance Labs will start investing in Symbiosis Finance for a multi-chain liquidity future