---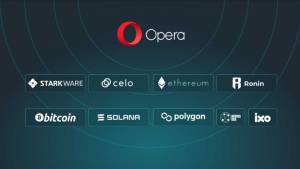 Opera, creator of the world's first native Web3 web browser with an embedded cryptocurrency wallet, announced the addition of support for key blockchain ecosystems such as Solana, Polygon, StarkEx, Ronin, Celo, Nervos, IXO and Bitcoin. From today, millions of Opera users can use blockchains, decentralized applications (dapps) and services in as many as eight different environments. They also gain access to the Polygon application environment, Solana dApps and Layer 2 DeFi solutions via DiversiFi based on technology created by StarkWare. And thanks to access to the wallet, Ronin can breed, collect and trade NFT characters called Axies.
Opera is developing Web3
It is worth noting that today's premiere also extends Opera users' access to PoS blockchains and Ethereum Layer-2 ecosystems, such as Polygon or StarEx. Thanks to this, they can benefit from lower gas fees and faster transactions – minimizing the carbon footprint, while maintaining the decentralization and security of Ethereum technology. The integration of several blockchains, especially Layer 2, is part of Opera's key strategy to ensure that millions of users have trouble-free access to the Web3 in an environmentally friendly manner. – Since we started operating on Web3 in 2018, we have entered into a number of strategic partnerships with the most popular and cutting-edge blockchain technology developers and domain providers. Everything to accelerate the evolution of cryptocurrencies: from the proof-of-concept stage to mass adoption. Web3 is on its way to becoming the world's most powerful technology, and users won't even need to know they're interacting with it. They need to experience the best user-experience and feel the real benefits. Jorgen Arnesen, EVP Mobile at Opera, said. In mid-January 2022, Opera unveiled the first public beta of its new project "Crypto Browser", a crypto-browser for mobile devices and desktops that provides the best and comprehensive Web browsing3. Although the first web browser with an integrated cryptocurrency wallet and basic Web3 support was launched in 2018, it was only its latest version (with dapp support, non-trust wallet, and also Crypto Corner) that accelerated the evolution of Web3.
Polygon
Integration with Polygon is a key part of Opera's strategy of seamlessly introducing millions of users to Web3 in the greenest way possible. Polygon's fast, scalable, and cost-effective environment has made it one of the most popular Ethereum solutions for users and developers alike. As gas charges for Ethereum continue to climb, Opera is quick to integrate, giving millions a direct and more efficient way to interact with Polygon. On the other hand, once assets are sent to Polygon's Proof-of-Stake (PoS) chain, the carbon footprint becomes virtually negligible for both mining and the money transfer itself. Polygon only consumes 0.00079 terawatts (TWh) of electricity per year, making it over 90 percent. less energy intensive than the Ethereum-1 layer. For example, breaking a single NFT through a Polygon produces roughly the same amount of CO2 as driving a car just 0.26 kilometers. From Metaverse platforms such as Sandbox, Decentraland, Minecraft NFT Worlds, Cryptovoxels and Somnium Space, to the most popular dApps games in the Polygon ecosystem, including Polygon Studios projects and games such as Aavegotchi, My Crypto Heroes or Atlantis World. The integration of Opera and Polygon opens up to everyone the most popular Ethereum ecosystem with over 7,000. dApps of your choice, including Sandbox, Decentraland and Aavegotchi gaming apps. Polygon technology in Opera is the biggest introduction of millions of users to the Web3 space in an environmentally friendly way.
Solana
Major web browsers began working on the inclusion of native blockchain features during the DeFi boom in 2020. Since then, many have integrated different levels of blockchain functionality. However, the inclusion of Solana in this process is ahead of the solutions of Opera's main competitors in this sector.


Solana was in the top ten cryptocurrency projects in market capitalization in early 2022. Low transaction fees, high scalability and an energy-efficient model of the consensus algorithm have made Solana a profitable player in the blockchain business sector. Opera users will now be able to access the entire Solana ecosystem, including decentralized applications (dApps) currently hosted on the blockchain. These include applications from decentralized exchanges (DEX) such as Solend and Raydium, Markets NFT, as well as music streaming applications. As Opera is still working on integrating the wallet into the Solana ecosystem, users will have to resort to Phantom wallet intermediation for now. Along with Solana, Polygon, and other blockchains, Opera also enables users to access the Ethereum Layer 2 ecosystem via StarkEx powered by StarkWare technology and DeversiFi's decentralized exchange. The integration allows you to make very cheap transactions that are over 100 times faster and more profitable than the Ethereum main network. In addition, Opera announced support for Ronin, the technology behind the popular GameFi project, and Axie Infinity – one of the greatest successes of the decentralized gaming space in recent years. Integration also includes Nervos, IXO, Celo and Bitcoin. – The average internet user may still be averse to Web3 technology, but thanks to the integration of Solana, Polygon blockchains and other technologies in our mobile browser, they can now gain safe and easy access from a well-known browser. Jorgen Arnesen, EVP Mobile at Opera, said. The Polygon and Polygon applications are available in the Crypto Browser project for Android and PC, as well as Opera for Android. Solana, StarkWare / Deversifi Layer 2, IXO, Ronin, Nervos, Bitcoin and Celo are available in Opera for Android and will become available in the Crypto Browser project in the coming months.
The author also recommends:
Follow us on Google News. Search what is important and stay up to date with the market! Watch us >>