---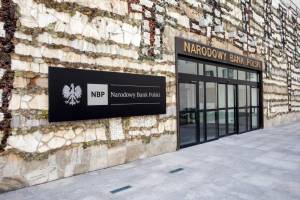 On Tuesday, April 5, 2022, after 11:55 am, the exchange rates of the National Bank of Poland (NBP) are as follows: US dollar (USD / PLN) costs PLN 4.2166, euro (EUR / PLN) PLN 4.6290, franc Swiss (CHF / PLN) 4.5582 PLN, and pound sterling (GBP / PLN) 5.5405 PLN. The Polish zloty continues its decline today. The market awaits tomorrow's MPC decision. The euro is fighting to return to PLN 4.63. The dollar fluctuates just below PLN 4.22. The Swiss franc is strengthening above the barrier of PLN 4.55. Pound sterling gains PLN 5.54
Tuesday's NBP exchange rates for the main pairs with the zloty are presented below:
Currency pair Symbol Exchange rate Date of update USD / PLN exchange rate PLN 4.2166 04/04/2022, 1:30 p.m. Euro EUR / PLN rate PLN 4.6290, 04/04/2022, 1:30 p.m. GBP / PLN exchange rate PLN 5.5405 04/05/2022, 1:30 p.m. CHF / PLN exchange rate PLN 4.5582. 04/05/2022, 1:30 p.m. Source: own study based on NBP data
NBP exchange rates on Tuesday. How much are the Dollar, Pound, Euro, and Franc on April 5, 2022?
The Polish zloty continues yesterday's declines. At noon the zloty loses 0.06% against the basket of currencies. The dollar is weakening in the broad market, while the Australian dollar is doing unexpectedly well. In Europe, the most important topics remain: war, inflation and sanctions. In Poland, investors' attention is focused on tomorrow's MPC decision, which, according to market expectations, should continue to increase interest rates, strengthening the zloty.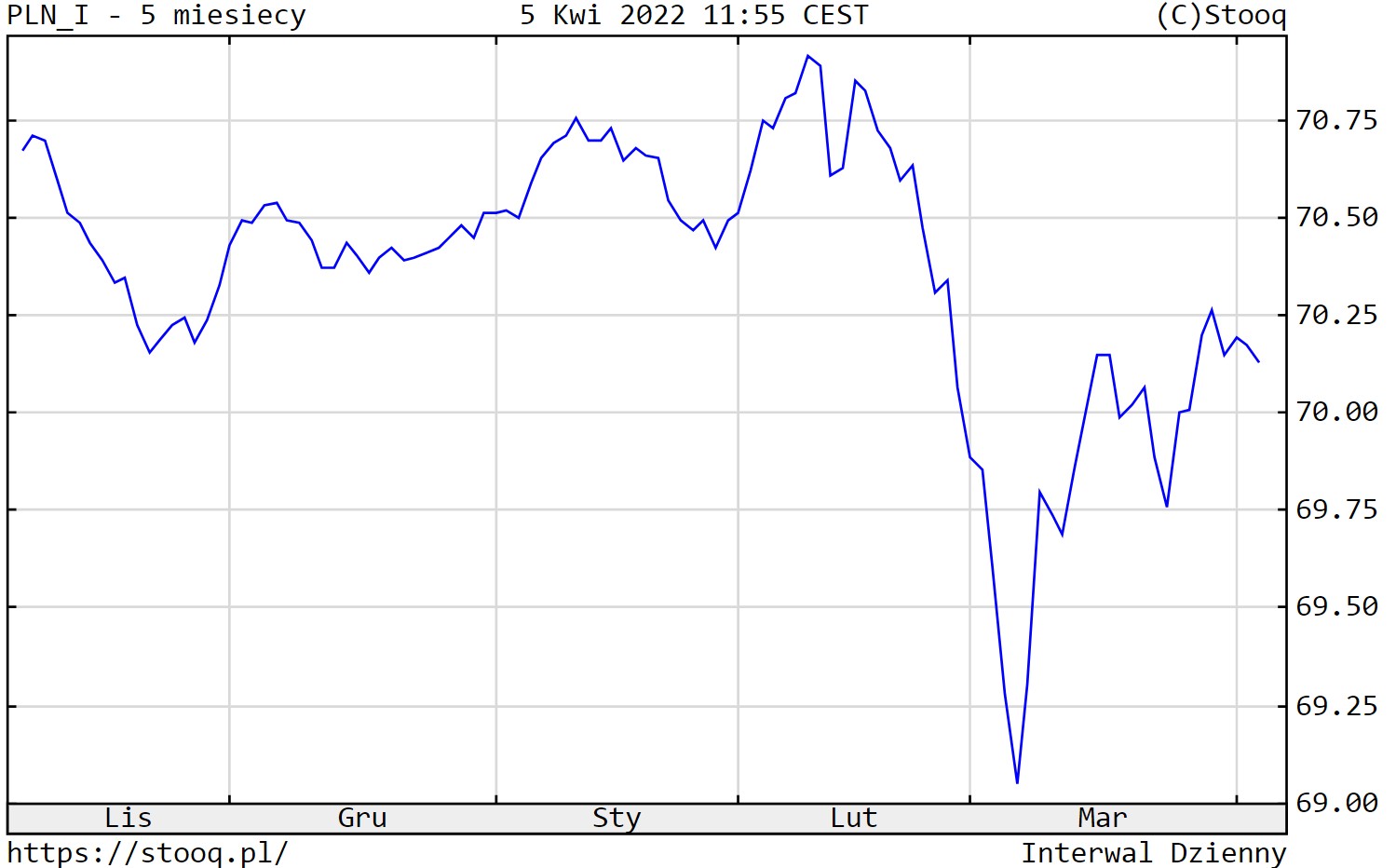 Zloty exchange rate against the basket of currencies The euro exchange rate against the zloty gains 0.27% at noon, setting daily highs at PLN 4.6365, and lows at PLN 4.6170. The euro is trying to return above PLN 4.63, as a permanent decline below this level should open the way to a wider correction of the single currency, including the range of PLN 4.60 – 4.58. The US dollar exchange rate is rising by 0.22% at the same time. The daily highs are at PLN 4.2254 and the minimums at PLN 4.2077. The dollar slightly worsens its situation on the broad market today. The USD / PLN quotations continue the upward approach started in April, and the immediate goal is to regain the PLN 4.22 – 4.25 range. The franc exchange rate is gaining 0.36% at noon, testing the level of PLN 4.5638 (the minimum on Tuesday is PLN 4.5422). The Swiss currency has returned above PLN 4.55, and the following days, along with the announced sanctions, give the Swiss franc a chance to return to the regions of PLN 4.55 – 4.58. The pound rate is trying to gain PLN 5.54 today, gaining 0.37%. Daily highs are at the level of PLN 5.5474, and the minimums at PLN 5.5178. The British currency is trying to make up for the March decline and is currently gaining quickly against the zloty.


How much are the euro, dollar, pound and franc: the full NBP currency table
Currency name Currency code Average exchange rate Baht (Thailand) 1 THB 0.1264 US dollar 1 USD 4.2233 Australian dollar 1 AUD 3.2258 Hong Kong dollar 1 HKD 0.5392 Canadian dollar 1 CAD 3.3908 New Zealand dollar 1 NZD 2.9595 Singapore dollar 1 SGD 3.1155 euro 1 EUR 4.6317 forint (Hungary) 100 HUF 1.2507 Swiss franc 1 CHF 4.5590 pound sterling 1 GBP 5.5410 hryvnia (Ukraine) *) 1 UAH 0.1467 yen (Japan ) 100 JPY 3.4383 Czech koruna 1 CZK 0.1903 Danish krone 1 DKK 0.6228 Icelandic krone 100 ISK 3.2710 Norwegian krone 1 NOK 0.4848 Swedish krona 1 SEK 0.4494 kuna (Croatia) 1 HRK 0.6142 Romanian leu 1 RON 0.9369 lev (Bulgaria) 1 BGN 2.3681 Turkish lira 1 TRY 0.2870 Israeli new shekel 1 ILS 1.3192 Chilean peso 100 CLP 0.5421 Philippine peso 1 PHP 0.0824 Mexican peso 1 MXN 0 , 2134 rand (South Africa) 1 ZAR 0.2905 real (Brazil) 1 BRL 0.9191 ringgit (Malaysia) 1 MYR 1.0027 Indonesian rupee 10,000 IDR 2.9435 Indian rupee 100 INR 5.6034 South Korean won 1 00 KRW 0.3482 yuan renminbi (China) 1 CNY 0.6584 SDR (IMF) 1 XDR 5.7953 Source: NBP. It should be noted that the above exchange rates were released on Tuesday and will be valid until Wednesday noon when the central bank presents its updated table. Takowa usually shows up around 11:45 am-12:15 pm. Follow us on Google News. Search what is important and stay up to date with the market! Watch us >>