With the arrival of the biggest Ethereum update, abandoning mining by graphics cards, it is possible that another cryptocurrency will appear on the market, being a kind of "Bitcoin Cash" of Ether. The reason is pressure from the multi-billion dollar mining industry, which is about to lose its biggest source of revenue. Therefore, they dream that the new clone can be as big as Ethereum is today, keeping their profits. Another alternative is the migration of equipment to mine Ethereum Classic (ETC). Some giants, like Bitmain and Antpool, are already betting on this strategy. However, the biggest problem is that ETC doesn't even have an ecosystem to support it.
ETHPoW, miners plan to fork Ethereum as update arrives
Still unnamed, but called ETHPoW (Ethereum Proof-of-Work) by a recent Bitmex article, a new cryptocurrency could be about to emerge on the market with the migration from Ethereum to Proof-of-Stake (PoS) next month. . The main motivation is the loss of revenue from miners who pocketed BRL 3.2 billion just last month. The sum jumps to R$ 40.2 billion when we analyze annual data, impressive numbers given that we are in a strong bear market.
Revenue from Ethereum miners, in dollars, since January 2022. Source: The Block. So this multi-billion dollar industry is trying to find alternatives to stay alive. According to journalist Colin Wu, today large miners are divided into three groups. While Bitmain is supporting Ethereum Classic (ETC) by investing $10 million into its ecosystem, others like Chandler Guo are planning create an Ethereum clone, keeping its current characteristics. A third group would be inclined to support other cryptocurrencies.
"There are currently nearly 5 billion dollars worth of graphics cards and ASICs (E9) for mining Ethereum that need to find a way to continue activity after Ethereum becomes PoS in September. Most belong to Chinese miners."
It has everything to be another shitcoin on the market
However, it is hard to believe that a new clone of Ethereum will succeed if it wants to come close to Ethereum Classic (ETC) – today with a market value of US$ 5 billion – let alone Ethereum (ETH) and its US$ 200 billion. Therefore, it is possible that this new coin will become a "Bitcoin Cash (BCH)" of Ethereum, being forgotten in a short time. As a highlight, BCH was worth almost 1/4 of a BTC in 2017, today 1 BCH is worth less than 0.06% than 1 BTC. So, in case ETH holders receive this new coin for free, the tip is to sell it as fast as possible.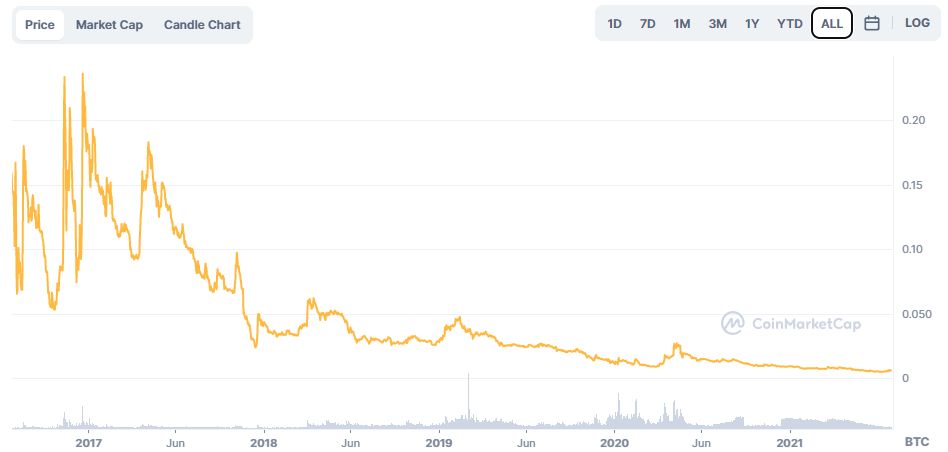 Bitcoin Cash (BCH) price relative to Bitcoin (BTC). Source: CoinMarketCap. Finally, the biggest problem is that investors in this new clone of Ethereum would literally be serving as liquidity for miners, just like in ETC today. After all, the trend is that all large projects will remain with Ethereum after the update and that this new cryptocurrency will not have any support. Other interested parties in this fight are NVIDIA and AMD, the biggest manufacturers of video cards. With the market about to see a flurry of used GPUs, it is possible that sales of your new cards will plummet, impacting your revenue as well as your stock price.