---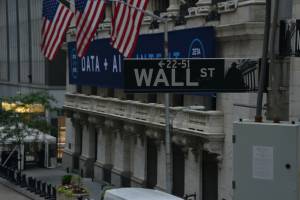 Wall Street's earnings season kicked off this week. So far, investors have been able to read the reports of American banks and other financial institutions, but it will be even more interesting after the Easter break. After the Easter break, the situation will become even more interesting.
Lockheed Martin stock broke above the top of the post-pandemic trading range
Next week, investors will be able to read the financial reports of one of the largest American contractors in the defense industry – Lockheed Martin. Let's take a closer look at the company that began to gain attention after the Russian invasion of Ukraine began. Lockheed Martin, an American aerospace company, is one of America's leading military contractors. The company is a well-known manufacturer of jet fighters used by the American army and the troops of allied countries. Lockheed is also involved in other areas of activity, such as satellite communications and space rocket manufacturing, and data analytics and electronic warfare development. All these areas are widely used in the modern military, so it should come as no surprise that Lockheed Martin is one of the top 10 military contractors of the US government.
The impact of the Russo-Ukrainian war on defense spending
Not surprisingly, the launch of the Russian invasion of Ukraine increased the value of defense stocks, including Lockheed Martin. The military budget of the US Department of Defense was expected to be slightly lower and funds allocated to fighters would be lower. However, due to the change in the global order and the increased risk of a Russia-NATO confrontation, it is very likely that no reduction in US defense funds will take place. Even if such an unexpected turn occurred, Russia's hostility would likely keep orders from US allies still flowing in, preventing Lockheed Martin from having to cut production levels. Although the war in Ukraine is a tragedy in which civilians are killed, it is also a kind of opportunity for Western defense companies. As the flow of NATO weapons to Ukraine is expected to increase even more, this is an opportunity for arms manufacturers to test their products in a real combat environment and depending on how the products perform, this could have a big impact on future orders . However, this may not be the case with Lockheed. As Lockheed Martin manufactures highly advanced weapons, its products may not be widely used in Ukraine due to the long training process.


The publication of the results for the first quarter will take place on Tuesday, April 19
Lockheed Martin is expected to announce its first quarter 2022 results ahead of the opening session on Tuesday, April 19. The financial data for the first quarter is unlikely to fully capture the impact of the Russo-Ukrainian war, if at all, but updated forecasts for the full year may be provided. The company's current forecasts for 2022 were $ 66 billion in annual sales and an earnings per share of $ 26.70. This would mean a 1.5% decrease in sales and an increase in earnings per share by 17.3%. It would be very surprising if sales of a large defense contract fell in a year in which Russia's incursion into Ukraine put NATO as a whole on high alert and spurred politicians to increase defense spending. As for the data for the first quarter of 2022, the market expects Lockheed to see a 4.3% y / y decline in sales to US $ 15.55 billion and a 5.3% y / y decline in earnings per share to 6.23 USD. Operating income is to be lower and will amount to USD 2.03bn (-8.5% y / y). Net income is also expected to decline 8.1% year on year to $ 1.68 billion.


Source: xStation5 Looking at the chart of Lockheed Martin (LMT.US), we can see that the upcoming publication of results may be a make-or-break moment for stocks. The stock broke above the upper end of the post-pandemic range in late February and hit the textbook breakout range ($ 473) in early March following Russia's invasion of Ukraine. The stocks have been struggling to break above the $ 473 area since then, and the publication of results next week could be a catalyst for more traffic.
The author also recommends:
See other phrases most searched for today: hryvnia course | dollar rate nbp | oil rate | s & p 500 index | lotus stock quotes | jsw stock price | celon share price | Follow us on Google News. Search for what's important and stay up to date with the market! Watch us >>