Like most current messaging applications, we also have the possibility of synchronizing our mobile Signal account with its Windows, MacOS or Linux desktop versionThe procedure to synchronize the service is not complicated at all, and if you have experience in WhatsApp or Telegram, you will be able to take your Signal chats to your computer in just a few seconds
By now, you probably already know that Signal is an application among those looking to send and receive messages with greater security than WhatsApp can offer us. Of course, there are other platforms like Telegram that have their own users, but in this particular case we want to teach you step by step, how to use Signal on your desktop PC, using the classic connection with the mobile of other famous messengers.
As usual within the segment, basically what we do is synchronize the smartphone with the computer, replicating all the chats from one computer to the other, and making it possible for us to do without the phone, using only our computer, which will make increase your productivitynot being passed from one device to another.
Among the reasons or reasons why more and more users are looking at Signal, we can mention some such as the end-to-end encryption system, which ensures that all conversations remain unrelated to those who want to access them. Y on PC, Signal provides the same features as on mobile.
Install Signal on desktop PC step by step
What's interesting about this is that to use Signal on desktop, you need to have the Signal app installed on your iPhone, iPad or Android, nothing more. Then Signal for Desktop is available for Windows, MacOS and Linux. You can download it directly from this link, which takes you to its official website.
Once you have downloaded and installed it on your two devices, the steps you have to follow are these:
Open the Signal app on your mobile or tablet, go to Settings, and Paired devicesOnce in this menu, go to the Pair new device sectionYou must grant permissions to Signal so that it can use your camera to scan the QR codeIn Signal for Desktop, open the QR code, and bring your mobile closer so that the camera can read it. It will ask you if you are sure you want to link. You need to tap on Link deviceGo back to the desktop app, choose a name for your PC and tap on Finish linking phoneThen the desktop app will sync contacts and groups from the smartphone
Once it's done, you'll see that the user experience is very similar to that proposed by WhatsApp Web. As you can see in the following image, the chats are shown on the left side, and as you click on each one of them they open, so you can communicate with that person or group of people.
You can also make video calls, voice calls, send audio messages, attach files and use stickers. In fact, the sticker packs you download on your mobile will automatically appear on the desktop.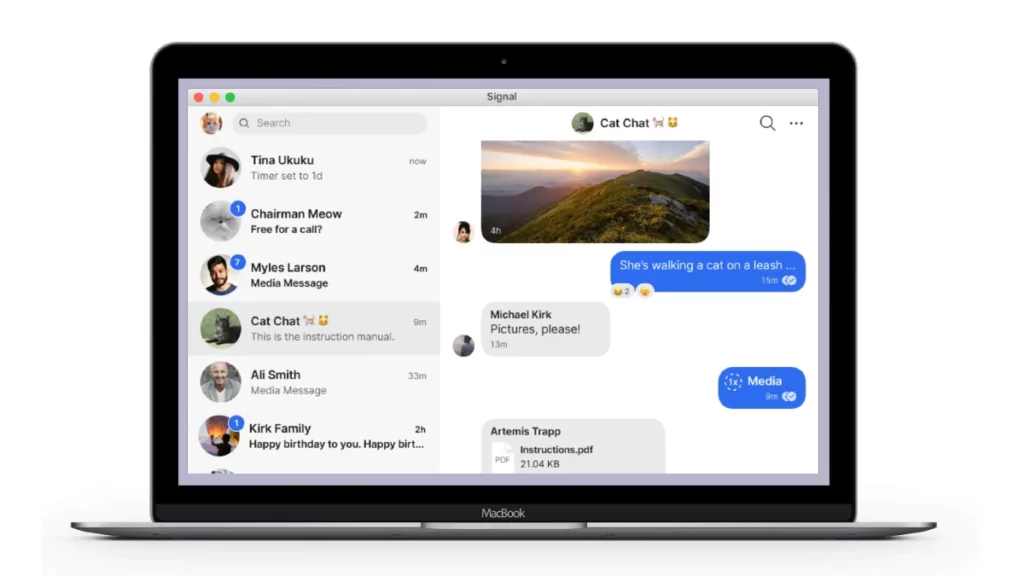 Conclusions
We could say that this is it, and that you should be able to use Signal from your phone and PC without distinction.. Note that if you're using Signal as your default SMS app on Android, those conversations won't show up in the Signal for Desktop app, so check on your smartphone.