Every country will want bitcoin (BTC), says Edward Snowden


---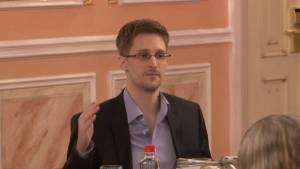 A former employee of the Central Intelligence Agency (CIA) and one of the world's most popular whistle-blowers, Edward Snowden, commented on the effects that El Salvador's acceptance of bitcoin (BTC) as the official state currency may be. Competitive nations will soon regret not taking a similar step, according to a cybersecurity expert.
Snowden is famous for revealing several hundred thousand confidential, secret and top secret documents of the NSA (US Internal Intelligence Agency) in the press.
It was the largest leak of classified information in US history, which the authorities wanted for revealing state secrets
From 2013, he enjoyed temporary asylum in Russia, and from 2020, the right to permanent residence
More similar and interesting articles can be found on the Comparic.pl home page
Bitcoin: Latecomers may wish they had hesitated
As of September 7, bitcoin became official currency in El Salvador, right next to the US dollar. For a small and crisis-stricken economy, this is to be an opportunity to open up to additional investment opportunities and to free from the domination of the USD. While the project is controversial among many institutions, including the International Monetary Fund (IMF), the president of El Salvador encourages the opening of a government-offered cryptocurrency wallet. This step is supported by Edward Swowden: – Bitcoin has been formally recognized as legal tender in the first country. There is now pressure on rival nations to acquire bitcoin – even if only as a reserve asset – as its design massively encourages early adoption. Latecomers may wish they had hesitated, Snowden commented on Twitter.
Today Bitcoin was formally recognized as legal tender in its first country. Beyond the headlines, there is now pressure on competing nations to acquire Bitcoin — even if only as a reserve asset — as its design massively incentivizes early adoption. Latecomers may regret hesitating https://t.co/mggfDk4v9z – Edward Snowden (@Snowden) September 7, 2021

Snowden is not alone in his claim, and influential institutions such as JP Morgan and the Central American Bank for Economic Integration (CABEI) agree with his predictions.
You can invest in cryptocurrencies with the Plus500 broker, among others. Create a free account and start trading today!
I WANT TO TRADE IN CRYPTOCURRENCY Despite doubts as to whether El Salvador will benefit economically from using bitcoin, JP Morgan has suggested that the move could be "the start of a broader trend among similarly situated, smaller nations." CABEI notes that "the world is moving in a highly digitized direction," and Executive Chairman Dr. Dante Mossi admitted that the organization intends to support a new El Salvadoran initiative. "We are preparing an expert-led technical assistance package to support the country's economic authorities by harmonizing user needs, helping to prevent illegal activities, and avoiding undesirable impacts on financial stability and monetary policy," commented Mossi. Some of the world's most recognizable brands are adapting quickly to BTC's new legal tender status in El Salvador. Starbucks and McDonald's already accept BTC as payment. We're on Google News. Search for what's important and stay up to date with the market! Watch us