In addition to receiving the previously announced visit from Changpeng Zhao, CEO of Binance, El Salvador welcomed other celebrities this Thursday (24). As a highlight, President Nayib Bukele welcomed Mexico's third richest man and Bitcoin advocate Ricardo Salinas Pliego, as well as journalist and market veteran Max Keiser. While the content of the conversations has yet to be released, the CEO of Binance, one of the richest people in the world, reaffirmed that his conversation with Bukele did not address the Bitcoin bonds to be issued by El Salvador. Ricardo Salinas, on the other hand, took advantage of the visit to visit a mining farm in El Salvador that uses a volcano to generate energy. Recently, the billionaire showed interest in the activity as he owns a geothermal plant.
Binance CEO Visits El Salvador
After a delay in the issuance of Bitcoin bonds, which plan to raise the equivalent of 5 billion reais for the country, some newspapers claimed that the president of El Salvador would be turning to Binance to help them in this collection. However, this was denied by Nayib Bukele and again by Changpeng Zhao, quoted below.
"Fantastic encounter. We don't talk about the titles at all, this word wasn't even said. But we had a lot to talk about. #adoption."
Changpeng Zhao, CEO of Binance, meets Nayib Bukele, President of El Salvador. Source: twitter / Reproduction Although the conversations have not been disclosed so far, Zhao is visiting several countries this March. Being in Brazil and Argentina before arriving in El Salvador, Zhao is looking to expand Binance's business and this could help increase Bitcoin adoption in the first country to adopt this cryptocurrency. Other photos, released by the Secretary of Communication, show Zhao more at ease, wearing a Binance shirt while buying an iced coffee with Bitcoin.
"Binance CEO Changpeng Zhao buying an iced coffee at Playa El Zonte paying with Bitcoin. That only happens in El Salvador."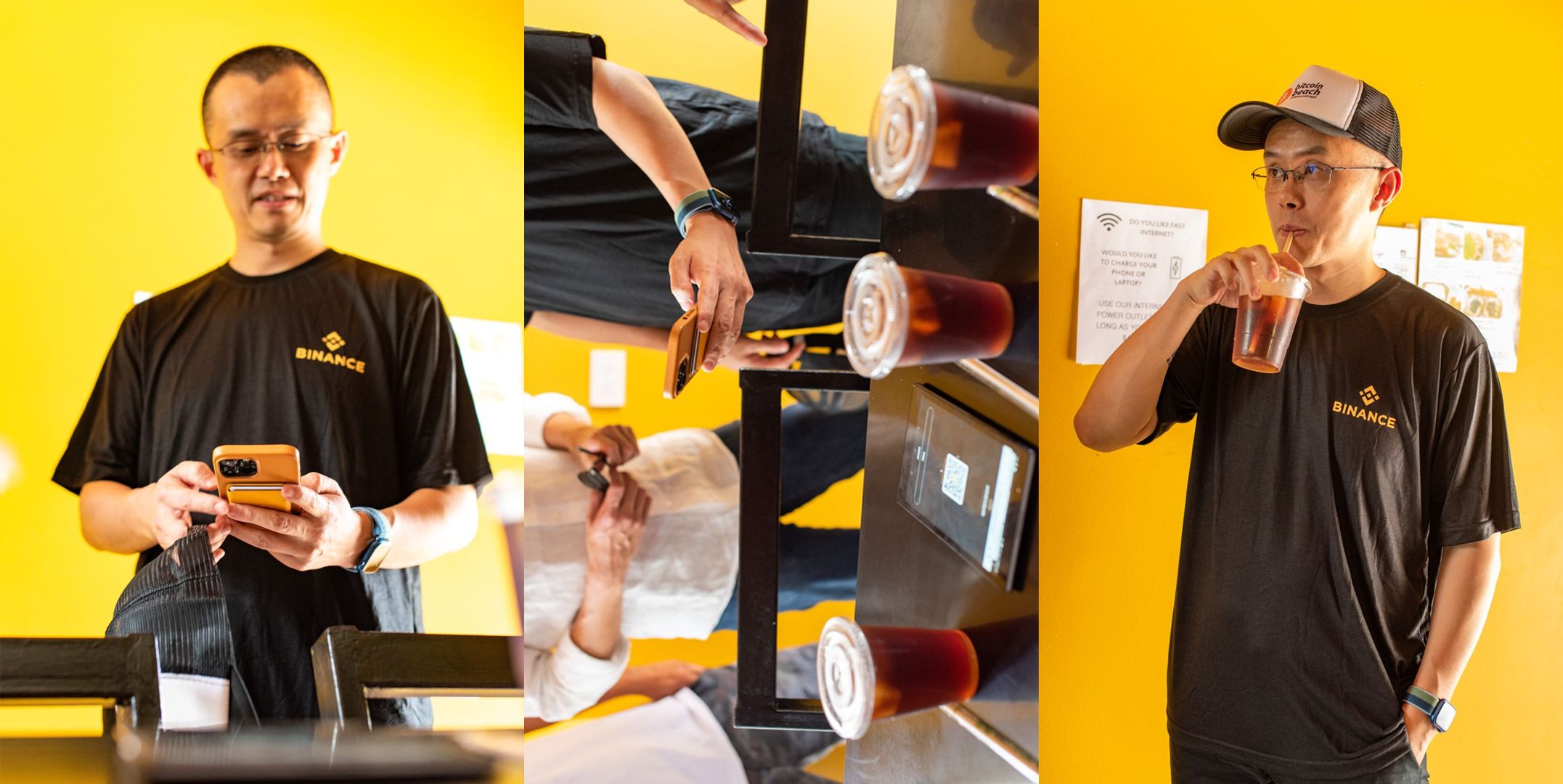 Changpeng Zhao, CEO of Binance, paying for his iced coffee using Bitcoin. Source: twitter / Reproduction
Mexico's third richest man also visited El Salvador
In addition to Zhao, another big Bitcoin supporter visited El Salvador and spoke with its president, Nayib Bukele. We are talking about Ricardo Salinas Pliego, the third richest man in Mexico. On the occasion, Salinas presented Bukele with a bilboquet, a popular toy in Mexico that became famous in Brazil because of the Chaves series. Due to the age difference, Bukele called Salinas "uncle", showing intimacy.
"Uncle @RicardoBSalinas gave me a silver capirucho (I think they call it another name in Mexico)."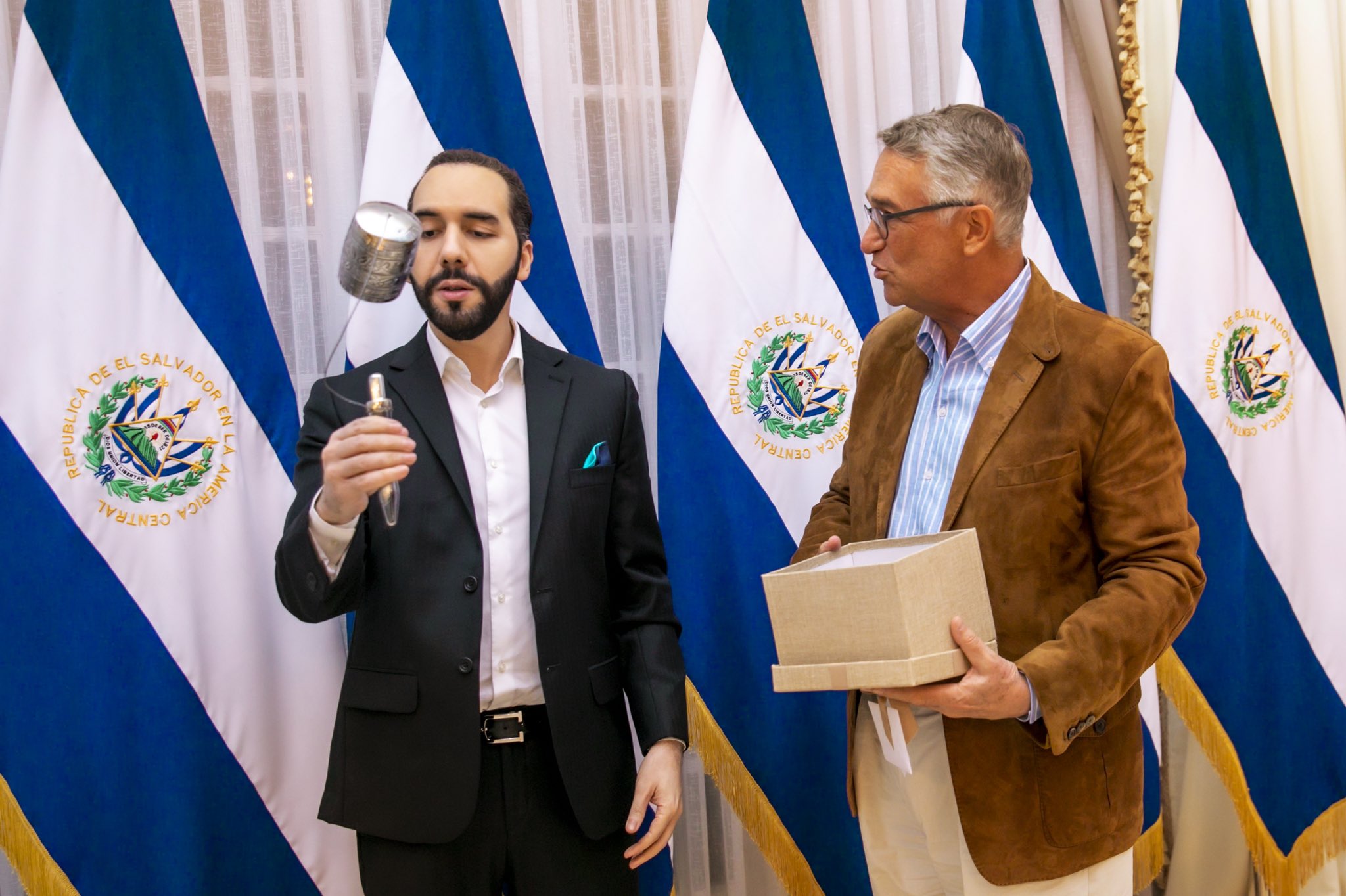 President of El Salvador, Nayib Bukele, playing with a gift received from Ricardo Salinas Pliego. Source: twitter / Reproduction. The occasion also brought together other big names like Max Keiser, journalist and market veteran, Stacy Herbert, Keiser's wife, and Samson Mow, CEO of Pixelmatic and architect of El Salvador's Bitcoin securities. Returning to the Mexican billionaire, Salinas took advantage of the trip to visit the El Salvador mining farm that uses energy from a volcano to provide energy for the same.
"We flew over the @LaGeoSV factory in El Salvador and went down to visit and meet… Lots of opportunities to take advantage of and lots of lessons to learn #Bitcoin"
About flying the plant @LaGeoSV in El Salvador, we can visit it and get to know it… many opportunities to take advantage of and many lessons to learn 😌😎#Bitcoin 🇲🇽 pic.twitter.com/8ZZRbOVRuN
— Ricardo Salinas Pliego (@RicardoBSalinas) March 25, 2022
Undoubtedly, the main reason for this visit is due to the fact that Salinas has a geothermal plant in Mexico, which he is thinking of using to mine Bitcoin. However, the billionaire pointed out that his own generates only 25 megawatts, while El Salvador's is at least four times larger. Finally, this meeting of bright and courageous minds is a great sign that Bitcoin is gaining ground in the world. After the construction of Bitcoin City, El Salvador is expected to welcome heavyweight guests like these more often.