the influencer Diego Aguiar, is suing Nando Moura, a youtuber who resonated with the use of "beggar catcher" Givaldo Alves in a possible Bitcoin scam. In recent weeks, a case that caught the attention of Brazil was a homeless man who had a relationship with a married woman on public roads. After the great repercussion of the case, the man was identified as Givaldo Alves, with his life being explored by several people. Although his situation has been told thousands of times, people have used the image of the now ex-beggar to get attention. One of these people was Diego Aguiar, who allegedly gave Givaldo an apartment. In addition, Givaldo began posting alleged high and fast profits on social media with binary buy and sell bitcoin signals on a suspicious platform, earning income of up to BRL 9,000 in minutes. All these nebulous operations were accompanied by Diego Aguiar, who gave the buy and sell signals to the former homeless man. With that, the "beggar catcher" would have become a supposedly successful cryptocurrency trader, even if the activity was smugly publicized.
Diego Aguiar sues Nando Moura after controversial video against suspicious operations with "Mendigo Pegador"
In a video titled "CRYPTOCURRENCY SCAM WITH APPETIZING BEGGAR!!!", Nando Moura exposed the situation in which Diego Aguiar uses the image of Givaldo Alves to offer his followers easy and quick ways to make money with alleged operations involving Bitcoin. Calling Aguiar "a pickaxe" and other adjectives, Nando Moura said it is impossible to make easy money and that it will prove that Diego is not a person to be trusted. The youtuber said that Diego's plan is to use the beggar to show a life of luxury, but this is just a tactic to invite people to possible schemes. Nando Moura is the creator of a YouTube channel named after him, with 3.17 million followers, and of the Masters of Capitalism course, where he teaches in his classes how to invest safely. According to Moura's video, people should avoid magic pills, certain scams that make people lose money. On his Instagram, Diego Aguiar recorded stories informing that he sued Nando Moura, with the case now gaining great repercussion. In one of the stories, he shared a conversation with his followers with Nando Moura and asked the youtuber not to delete the video where he quotes him. Nando Moura said that he will beat Diego in court and said he was disappointed that the process was not in the Civil Court.
Diego Aguiar sues Nando Moura / Instagram
Who is Diego Aguiar, mentor of "Mendigo Pegador"?
Introducing himself as a businessman and with some companies open in Brazil, Diego Aguiar usually squanders a life of luxury on his social networks. Before being known as a binary options and cryptocurrency trader, he was a candidate for City Councilor in Rio de Janeiro in the 2016 elections, when he obtained only 126 votes, leaving as a candidate for the Social Democratic Party (PSD).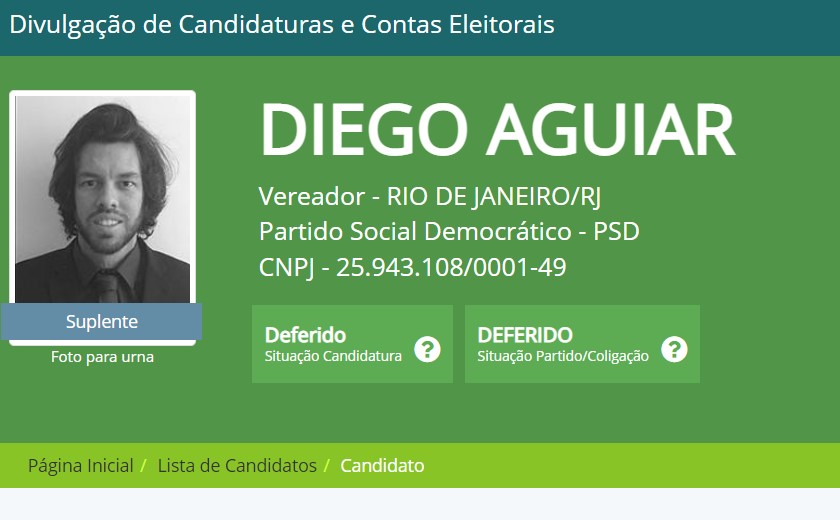 Diego Aguiar tried to be a councilor in Rio de Janeiro in 2016, but he only got 126 votes. Source: TSE After the total failure at the polls in that election, he did not run anymore and became known among investors of dubious schemes. One of the schemes that Diego gave his public testimony was YouXWallet, which defrauded thousands of investors interested in cryptocurrencies in Brazil. By suing Nando Moura, he tries to prove his point that he is the main trader in Brazil, but he risks being, as the sued youtuber claimed he would, totally unmasked. THE livecoins sought the defense of Nando Moura for statements and the space remains open for demonstrations. Diego Aguiar was also contacted by the report, but it was not possible to obtain his contact and the space remains available for statements.