"Welcome to the meme economy," the Dank Bank website greets me when I open its page. Hmm, this is going to be fun. Then I open the press release, reading that they've just secured $4.2069 million in funding. Hmm, this will be a lot of fun (read that number again if you haven't seen it for the first time).
The concept
Dank Bank is not just a funny name. The fundraising value is also more than a smiley meme — it's a huge number. They are trying to capture the spirit of cryptocurrency madness; they are creating a meme market. More specifically, they're trying to create a meme marketplace that rewards the stars of those memes, while allowing fans to get involved. "Memes and viral videos are the most universally recognized form of media ever created," explains Dank Bank CEO Harry Jones. "Doge and Bad Luck Brian are more recognizable cultural images and sensations than any painting by Picasso. Why were they never compensated for it?"
Monetization
Jones has a point. I'm not sure I know many of Picasso's paintings, but I would certainly recognize Charlie from "Charlie Bit My Finger," or Disaster Girl. Memes go viral at lightning speed, but the "star" ("creator"? "subject"?) of the meme has no control over the process, nor does it give permission. More importantly, they are not paid. "Viral internet content was almost impossible to monetize until now," adds Jones. This is one of the most-cited perks of NFTs – a way for artists to monetize their properties and earn a fairer share of the pie. Or, to be blunt, to win any piece of the pie. Memes are no different. See Kyle Craven, who you might know better as "Bad Luck Brian." He praises NFTs as "the only thing memes can do to take over." Bad Luck Brian is currently listed on Dank Bank. The price? A nice $400,000. Can you see why the artists are happy?
pop culture
For anyone who mocks memes as silly and useless, I disagree. The Internet is all-encompassing, and the fact is that memes are the most recognizable form of "art" on it. They're a pop culture phenomenon, and whether you love them or hate them, they certainly have value. Shared around the world, provoking laughter, scorn and even information – it's clear the creators deserve their piece. Dogecoin was all that was talked about through COVID – can you imagine being Itsuko Sato or Kabosu, creators of the meme that launched a cryptocurrency, which, at one stage, was worth $40 billion? You would feel that you deserve a little compensation, wouldn't you?
The king of all memes, Doge, listed on Dank Bank. Hey Elon, are you reading this?
How it works
The site sums it up as best it can: "The creators of the internet's most legendary viral memes and videos invent NFTs authenticated by our highly trained team of memelords. The creators are not greedy hypercapitalists looking to make a quick buck, they are normal people who have become universally recognized cultural symbols without any monetary reward." These NFTs are then broken down into thousands of pieces that investors can buy, sell and trade on the open market. And that, very beautiful, is it. The fractions of NFTs available mean smaller buy-ins, more affordability and therefore a wider target audience for Dank Bank.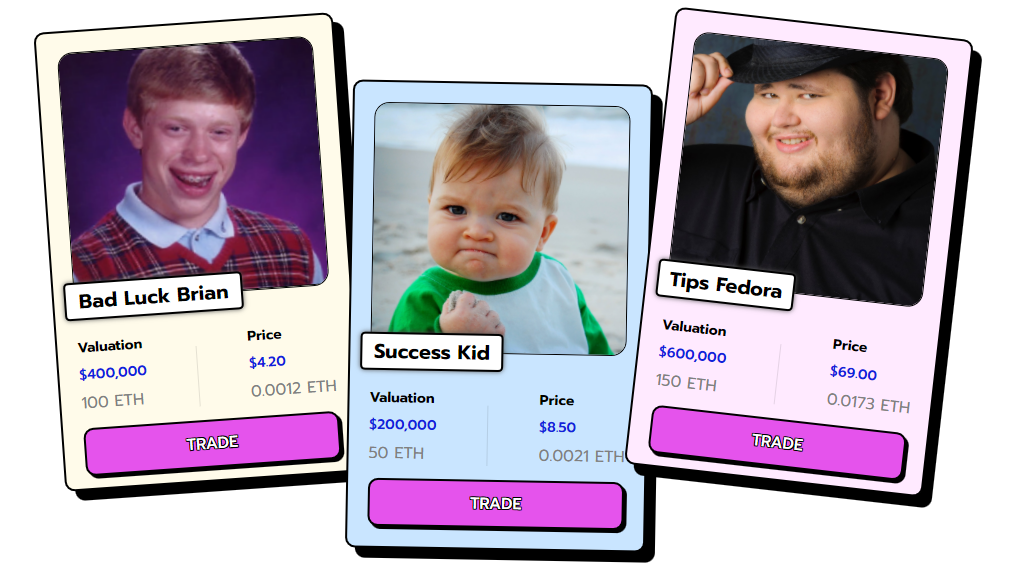 Bad Luck Brian, Success Kid and Tips Fedora memes listed on Dank Bank for $400K, $200K and $600K respectively
Future
With funding raised from the likes of Mechanism Capital, Samsung NEXT, former Coinbase CTO Balaji Srinivasan, and Morningstar Ventures, Dank Bank will be interesting next. Memes are unlike anything else, and their value to modern society is – strangely enough – indisputable. Therefore, an NFT marketplace specializing in this sector is a good idea. A marketplace where meme lovers can buy a piece of their favorite memes, with creators getting a windfall for their intellectual property – makes sense. In an ultra-competitive NFT space, it will be intriguing to see if Dank Bank can establish itself as the benchmark market and actually pull it out.