---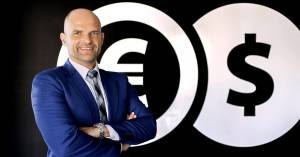 Grzegorz Jaworski, CEO of Conotoxia In 2021, Conotoxia Holding once again significantly increased the volume of transactions and revenues compared to the previous year. The group achieved PLN 33 billion of turnover on currency exchange transactions, and the services of Cinkciarz.pl and other companies of the holding recorded even four-digit increases. Record results apply to all fintech services, including the newest ones – incl. multi-currency loans.
Conotoxia Holding summarizes financial results for 2021
In 2021, Cinkciarz.pl users performed 24 percent. more foreign exchange transactions than in the previous year. Fintech turnover in this segment increased by 36 percent. compared to 2020, reaching the value of PLN 33 billion. In the category of money transfers, revenues increased by 80%, and the number of orders and their value doubled compared to 2020. The turnover increased more than twice. The number of fintech multi-currency cards issued increased 4 times in 2021 compared to 2020 when the product was launched. The number of card transactions increased more than 16 times, and the value of transactions increased as much as 23 times. The value of multi-currency loans granted in 2021 increased by as much as 6247%, and their number increased by 4,410%, compared to 2020, when fintech introduced the product for all users.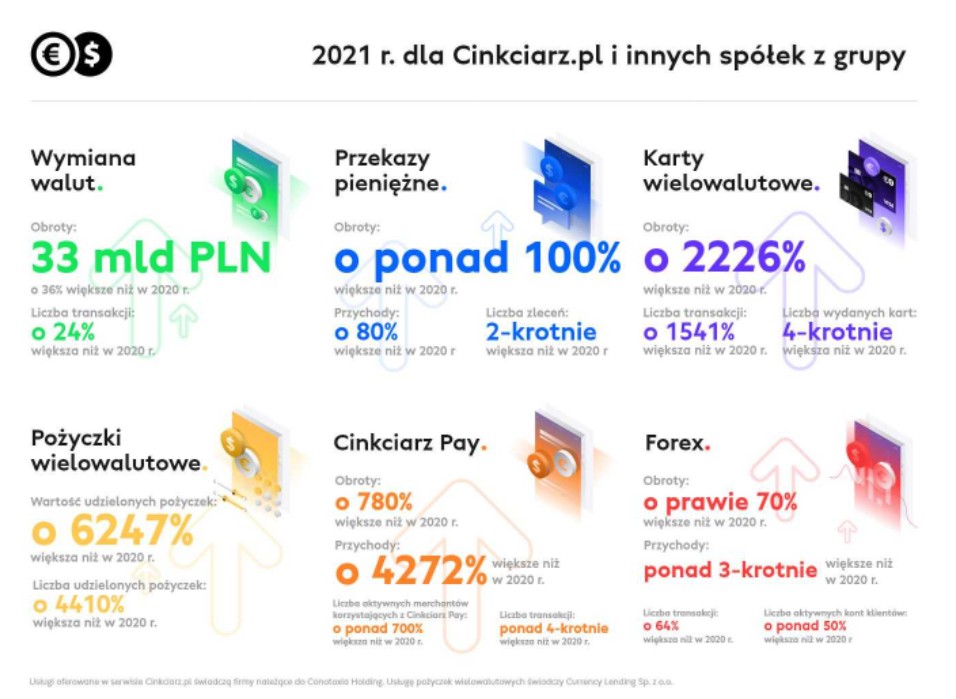 The business segment also developed very intensively last year. Corporate customers are more and more willing to use the proprietary fintech payment system for e-commerce – Cinkciarz Pay. In 2021, turnover increased by 780%, the number of transactions increased more than 4 times, and revenues increased by as much as 4,272% compared to 2020. In addition, the number of active e-commerce companies using Conotoxia Pay, increased by over 700 percent. Forex transactions also play an increasingly important role in the results of the entire group. Conotoxia Ltd. – a company that provides this service to users of the Cinkciarz.pl portal – recorded almost 70 percent in 2021. increased turnover, by 64 percent more transactions and over 3 times higher revenues compared to the previous year. The number of active customer accounts has reached a record level, growing by over 50%.


– We are constantly developing in every area, both in the retail and business line, striving to build a holistic financial offer for our clients. We consistently implement plans and announcements, but also surprise users with new products and innovations. However, we have an appetite for even more, the more so that the number of Polish and foreign clients of our fintech is systematically growing. We are working intensively on new projects in Poland and abroad. We are planning further international expansion in terms of our products and services and we expect further significant increases in turnover and revenues in all segments – says Marcin Pióro, CEO of Conotoxia Holding.
Further technological development
Fintech constantly places great emphasis on the development and implementation of innovative technologies. The popularization of remote work in 2020 and 2021 due to the pandemic was confirmed, inter alia, by the effectiveness of the cloud-based work model, thanks to which Cinkciarz.pl employees have the comfort of operating from anywhere in Poland and in the world. Applications in the clouds, Atlassian and Google Workspace, allow for a very quick and simple exchange of information, cooperation in the development of documentation or sharing of disk resources. Cinkciarz.pl has moved its products to the Google Cloud Platform from its own server rooms and other hosting. It was helped by the use of native cloud solutions, including: Google Kubernetes Engine, Cloud DNS, Cloud VPN, Cloud SQL, Cloud Storage, Memorystore and many others. The fintech software development department is constantly improving its competences, which is confirmed by the fact that Cinkciarz.pl employees receive renowned Google Cloud certificates. In 2021, they dealt with approx. 450 technology projects, and the intensity of work is confirmed by over 19,000. unique implementations (nearly 100 daily). The accelerator of these achievements is the fully automated implementation process, which allows developers to focus even more on their creative work. Cinkciarz.pl has placed over 170 applications on the Google Kubernetes Engine platform. Fintech has introduced an innovative approach using the Infrastructure as Code technology, which enables the construction of identical network and server structures in any location provided by the cloud operator. The popularity of the Cinkciarz.pl portal is evidenced by the almost twofold increase in user-generated traffic, which in 2021 reached over 2.5 TB per month. The confirmation of customers' trust is, however, over 2.5 million downloads of the Cinkciarz.pl mobile application.
New products in the offer
In 2021, the Cinkciarz.pl portal made many products and services available to users. The most important of them are: Introducing the possibility of ordering multi-currency cards with the option of sending not only by post, but also by courier and to parcel machines. Fintech was the first on the Polish market to enable the delivery of cards to parcel machines. Providing the cards to residents of almost all European Union countries. Enabling card payments with Google Pay, FitbitPay, GarminPay, as well as Apple Pay (in 2022). It allows you to track exchange rates and cryptocurrencies, exchange currencies, send money transfers, use multi-currency cards and accept BLIK payments to your smartphone in one place. The possibility of making payments through a bank account by users using the money transfer service from the USA to Europe. Expanding the portfolio of payment methods on the portal with Skrill and Rapid Transfer. Providing additional payment methods – Apple Pay, PayPal and Skrill – in the Conotoxia Pay payment system. Launching the "payment link" service for online stores, thanks to which they can generate and send online payment links. Access to Polish-speaking representatives at the Conotoxia Ltd. branch in Warsaw for investors who want to open investment accounts through the Forex.Cinkciarz.pl portal. Development of eStore by significantly expanding the offer and enabling purchases without registration. In the Cinkciarz.pl marketplace you can buy digital products such as games, music, audiobooks, e-books, access to VOD, gift cards, activation codes, vouchers and software. Launching a currency lottery for individual and business customers. Cinkciarz.pl users, by making currency transactions, can win monthly cash prizes with a total pool of all 190 prizes in the amount of PLN 500,000. The group announces the introduction of further important novelties and services in the near future, including prepaid multi-currency loans.
The author also recommends:
Follow us on Google News. Search what is important and stay up to date with the market! Watch us >>