It's great that you've bought bitcoins and invested in cryptocurrency. If the price of your bitcoins has gone up, you must be thinking about selling your bitcoins. The first challenge is figuring out how to sell your bitcoin once you have prepared everything, purchased a few coins, and watched for the price to increase. Before moving on, you should think about which method is the best for you as there are various ways to sell bitcoin, each of which has advantages and disadvantages.
Where To Sell Bitcoins
1. Exchanges
The easiest way to sell bitcoin is on an exchange. But, exchanges aren't ideal for everyone, though. It isn't always the most affordable option because a fee is required to keep the service operating. The very thing that many bitcoin traders are against is that it will restrict you to using only specific payment methods and that the transaction will be monitored by some sort of centralised organisation.
2. Online P2P Trading
Peer-to-peer (P2P) exchanges enable you to set your own price and assist in finding a customer ready to pay it rather than doing the job for you. The two parties then agree on a method of payment. This can occasionally be done on the website and is known as a direct transaction, but often you would utilise a different bank transfer.
With P2P trading, you may sell cryptocurrencies without being constrained by exchange regulations. 
3. Bitcoin ATM
 There are certain machines called bitcoin ATMs that enable you to sell your bitcoins.
These devices allow you to input your bitcoin wallet address and withdraw money similarly to a standard ATM. This is far more difficult to trace than a bank transfer, though it is not impossible. These ATMs also allow you to purchase bitcoin. So you may make it more difficult for someone to find what you're buying if there is one close by.
4. Trade In-Person
You should trade in person if you truly want to prevent anyone from following you. You offer the person some money, and they either send you bitcoin online or grant you access to their coin wallet. Once completed, it becomes more possible to obtain data from than even bitcoin ATMs – provided the other party keeps it a secret.
In reality, getting an escrow is not a possibility, or rather, if you did, hiding something from others would be completely defeated. Because of this, physical transactions using bitcoin are significantly riskier than those made through internet exchanges, so you should take caution if you decide to go this route.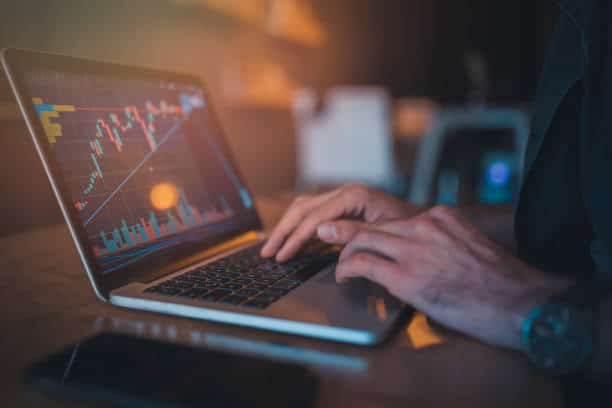 How to sell Bitcoin: Detailed Instructions for Selling Bitcoin
We'll go over the two internet selling choices now that you are aware of your possibilities. You'll need a user account with the specific exchange you want to utilise as well as enough bitcoin in the exchange wallet to sell in order to get started.
Step 1: Select a Bitcoin selling location
There are a few key considerations when deciding where to sell bitcoin.
Although various exchanges have varying deposit costs, depositing BTC should be free other than the Bitcoin network fees. When deciding where to sell, you should also take trading costs into mind. Trading commissions that are reasonable vary from 0% to 0.50% each trade. The withdrawal charge for cashing out to a bank account is the last thing to think about when selling Bitcoin. While some exchanges impose a flat fee, others impose a percentage. Select a trading platform that either has no withdrawal costs or has a reasonable flat rate.
Step 2. Create an account 
You must register for an account with the cryptocurrency exchange you have decided to use to sell your Bitcoin. On the homepage, locate the sign-up or register button. Then, proceed as follows:
Enter a phone number or email address.

Set up a password.

Enter the verification code supplied to the provided email address or phone number to confirm it.

Accept the rules and regulations

Click "Register" or "Sign Up."

The KYC procedure will thereafter need to be completed in order to confirm your identification.

You might need to submit a scan of your preferred ID for this stage, or you might just input your ID number. You'll be asked to provide a copy of a utility bill along with your selfie. By turning on 2-factor authentication, you increase the security of your account.
Step 3. Deposit Bitcoin On The Exchange
The next step in selling your BTC is to deposit it on the exchange. To do this, take the following actions:

Go to the exchange's wallets or balances page.

Find "Bitcoin"

Select "Deposit"

Copy the BTC deposit address that the exchange offers.

Into your external Bitcoin wallet, paste the address.

You can trade your Bitcoin when the deposit has been verified.
Step 4. Sell your Bitcoin
You may now sell your Bitcoin as it is in your exchange account. The market order, limit order, and immediate sell are three alternative ways to sell BTC through an exchange. It's crucial to keep in mind that you may exchange your Bitcoin for money or for other cryptocurrencies.
immediate sale
You must have already linked a bank account or withdrawal destination in order to do an immediate sell. The most expensive fees and market prices are usually associated with instant sales. You make less money overall than if you used the spot market. Instant sale alternatives cost money since they are quick and convenient.
Typically, you get to decide where to deposit and how much to sell. A preview of the transaction will be sent to you so you may evaluate the specifics. You can complete the deal when you've verified the specifics.
Step 5. Taking out local currency
Check the supported withdrawal methods before attempting to sell Bitcoin on a platform that allows withdrawals in fiat cash. The following are potential options 
PayPal

Bank transfer

debit or credit card

Skrill

SWIFT
Conclusion
If you have bought bitcoins, selling them is quite easy. All you have to do is follow the above-mentioned steps and sell your bitcoins. Please remember that holding cryptocurrency for the long term has more potential than selling soon. Wait for the bitcoins to go up in the value and then sell them. You can use a trading bot like bitcoin code to monitor bitcoin's price.